Are you searching for the best WordPress Security Plugins for protecting your WordPress websites? Then you have landed in the right place.
Just created a website and running your online presence nicely, Think you are done with the website creating business and all. Sorry, to interrupt but there are hackers out there who are trying to suck the websites and bleed your business down without even a word. Scary, isn't it? Yeah, there are many cases of websites hacks and the advancement of the technology, there are some loopholes that are making the hackers more powerful. But yes but you can actually prevent the WordPress website with the help of best WordPress security plugins.
These WordPress secuirty plugins contains handful of features that will surely prevent your website business from the hackers. You can select the features of this security plugins are per your needs.
Best WordPress Security Plugins 2021
Being based in our experience, we have listed 5 best WordPress Security Plugins for WordPress wesbite. Lets take a look at them.
Sucuri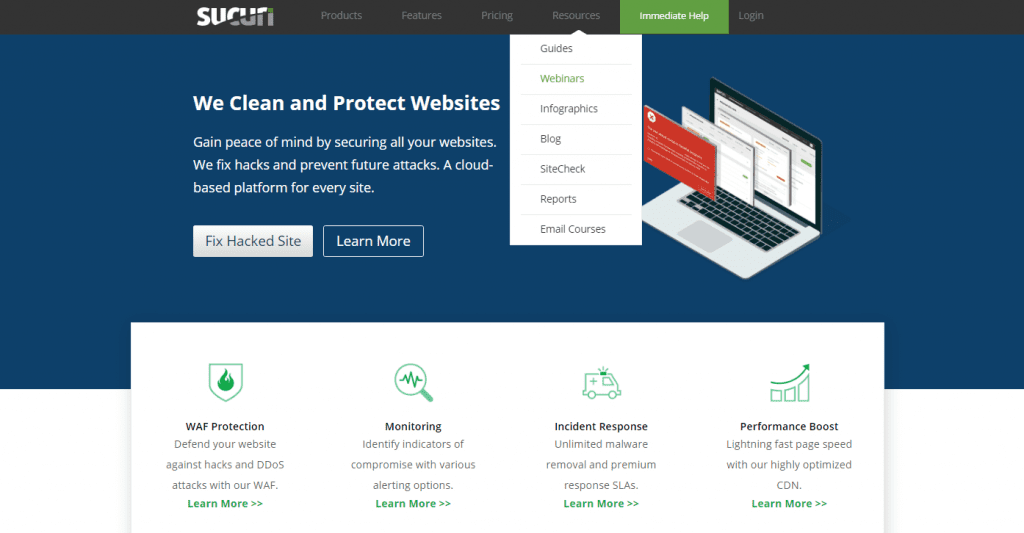 Sucuri is one of the best WordPress Security Plugins. It comes with free and premium versions. Most of the features are included in the free version of Sucuri WordPress security plugins whereas Web Application Firewall, Monitoring and automatic removal of malware and many more are in the premium version of this WP security plugin.
Features of Sucuri
Web Application Firewall (WAF) to secure your website against DDoS attacks
Incident Response or Hack Removal
Website Monitoring and Protection by automatocally removing malware
Immediate notification about the possible threats of your website
You can download the free Sucuri security plugins from here.
As for premium features, this WP security plugins offers 4 plans, namely Basic ($199.99), Professional ($299.99), Business ($499.99), and Custom.
Wordfence
If you are looking for powerful WordPress security plugins then Wordfence is the best one for you. It helps to monitor general activity patterns and hack endeavours. This freemium WordPress security plugins posses its own firewall that runs on your server instead of a cloud-based firewall. Wordfence is user-friendly making it suitable for beginners as well.
Features of Wordfence
WordPress Firewall
WordPress Security Scanner
Real-time Firewall Rule Updates
Real-time Malware Signature Updates
Real-time IP Blacklist
Free version of Wordfence works perfectly for smaller websites. Download Wordfence from here.
The premium plan of the Wordfence starts from $99.00 for 1 license.
iThemes Security
iThemes Security is one of the most popular and best WordPress security plugins. It comes with the super intuitive Dashboard that enables the users to enable and enable tools right through it. This WordPress security is highly active in finding out plugin vulnerabilities, obsolete software, and weak passwords. With iThemes Security, you can activate 30 total security measures, making it the best WordPress security plugin out of the rest.
Features of iThemes Security
Two Factor authenticiion
File Change Detection
404 error detection
Security Email Notifications
Database Backup
WordPress brute force protection
You can also get the free version of iThemes Security in WordPress.org. The free version of this WordPress Security plugin has only limited features. For the better version, go to the premium iThemes Security plugin for WordPress. Its premium plans start at $80/ year.
Jetpack Security
Jetpack is one of the most popular and best WordPress Security plugins for WordPress websites. Generally, this is all in one plugin too. It has a one-click restore function to keep your site online without any downtime. Apart from the WordPress website security, Jetpack has offers a contact form, CDN service, and analytics functionality too. It works on WooCommerce sites as well.
Features of Jetpack
On-demand Malware Scans
Real Time Backup
Spam Protection
Security Scanning
Brute force protection from hacking attempts
Activity Log
The free version of Jetpack is also good security for small websites. Download from here. Whereas its premium plan starts from $24.95/ month.
All In One WP Security & Firewall
If you are looking for free WordPress security plugins with advanced features then All In One WP Security & Firewall is the best one. It comes with the handful of features and one can use it without paying a single penny. Keeping feasibility and flexibility in mind, the WordPress experts has made it very simple, making it more user-friendly and understandable. This security plugin for WordPress is visual security plugin that contains graphs and metrics to enable the beginners to learn about the website security strength and strategies to pitch it.
Features of All In One WP Security & Firewall
It is free!!
Firewall Settings i.e. Basic, Intermediate, and Advanced – Select what's best for your WordPress website
Integrated with Backlist tool to block the suspicious users
Backup .htaccess and .wp-config files.
Grading System to measure how well your WordPress website in doing in terms of security
Download All In One WP Security & Firewall from here
Some of our other articles