Are you searching for the best free WordPress SEO plugins? We have handpicked the free WordPress SEO plugins that optimize the website and increase traffic.
Having a website is not enough. You need to SEO optimize it for the lead generation and conversion rate. Simply saying, the main aim of Search Engine Optimization (SEO) is to optimize the website, rank it in Google SERP, increase the traffic and grow business. But the problem is it is quite tricky to integrate SEO practices such as targeted Keywords, readability, meta description, and others. However. a good WordPress SEO Plugins will help you integrate all these SEO practices into the website and also helps to perform content analysis with actionable tips for improvement.
Free WordPress SEO Plugins
Here, we have listed the 6 best free WordPress SEO plugins that you should use. These all are the result of the recommendation of WordPress armies. Most of them almost have similar functionalities. Without further ado, let's take a look at the free WordPress SEO Plugins.
Yoast SEO
Yoast SEO is one of the most popular free WordPress SEO plugins. It comes with powerful features that help you to create SEO optimized content and optimized your WordPress website in search engines. With Yoast SEO, you can add meta descriptions and SEO titles based on the chosen keywords. Besides that, this must-have WordPress plugin also provides all the instructions to carry out on-page SEO optimization. Likewise, this free WordPress SEO plugin automatically generates an XML sitemap of all your website content; so that Google will easily crawl your website.
Rank Math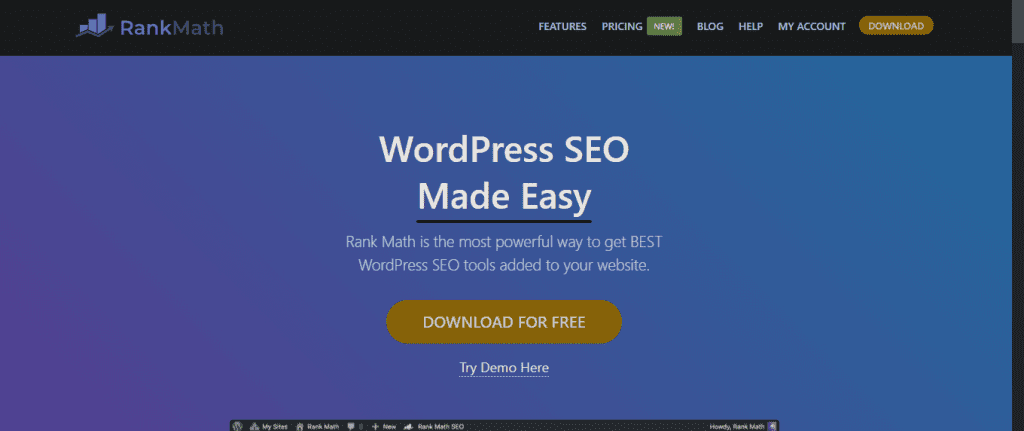 If you are looking for user-friendly and free WordPress SEO plugins, then Rank Math is the best one. It is very easy to use which provides set up wizard and automation features that allow the users to optimize the content smoothly. Not only that, but Rank Math also enables to import of data from other WordPress SEO plugins. It also connects Google Search Console, generates XML sitemap, schema markup, and optimizes breadcrumbs. One of the best parts of Rank Math is powered with keyword ranking tools, which is best for checking competitors' rank and all.
Speed of the website also matters? Here are some proven tips that speed up WordPress website.
All in One SEO
If you are searching for an alternate to Yoast WordPress SE0 Plugin, then All in One SEO is the right one. It is very simple to use and it will start to perform right after the activation. In need, WordPress developers or users can also customize the plugin or features. All in One SEO enables you to increase the ranking in search engines without learning any complicated SEO technical languages. This free WordPress SEO plugin comes with TruSEO on-page analysis along with the advanced checklist to optimize your website. Such as meta tags, descriptions, and SEO titles. Likewise, All in One SEO also consists of rich snippet schema markup, smart XML sitemaps (with advanced controls), SEO health check, and so on.
Squirrly SEO
Like other WordPress SEO plugins, Squirrly SEO is simple and user-friendly. It comes with the competitor analysis and helps to stay ahead of them. Likewise, you can also optimize the post, page, and website with the chosen targeted keywords. This free WordPress SEO plugin also has marketing features that enable trach audience engagement and provide advice to improve Click-Through-Rates (CTRs). Squirrely SEO consists of features like sitemap XML, Google Analytics integration, eCommerce features, social media monitoring, and many more.
Aprat from WordPress SEO plguins, some must have WordPress plugins for your website.
SEOPress
SEOPress is a powerful and free WordPress SEO plugins. It is very easy to set up and provides advanced controls for experts. Likewise, it has super intuitive content analysis too that provides powerful tips to create SEO-based content and rank it in the Search Engine. To track your website's SEO performance, SEOPress seamlessly incorporates Google Analytics. This WordPress plugin consists of features like free SEO tutorials, support for unlimited keywords, custom canonical URLs, and much more.
Conclusion
So, these are the best free SEO WordPress plugins. SEO is the most important activity of the website. This is the one that grows your business and also monetizes your revenue. The best tool will help you optimize the content without doing much effort. All you need is to go for any above-listed WordPress SEO plugins.