Simply saying, WordPress plugins are the tools that help to add more features and additional functionalities to WordPress websites. Written in the PHP programming language, it seamlessly integrates with WordPress which offers unlimited possibilities to make a website more advanced, professional, and powerful.
What is the WordPress Plugins used for?
Generally, WordPress Plugins are used for extra functionalities. You do not have to write code to add functionalities to your website. Thanks to WordPress developers as you will get hundreds of WordPress plugins in the WordPress directory for all types of websites. There are WordPress plugins for contact forms, add eCommerce functionality, caching, speed, site optimization, security, SEO, social sharing functionality, adds payment gateways, Google maps, Google Analytics, website conversion and many more.
Where to find WordPress Plugins?
Generally, you can get free and premium WordPress plugins in the WordPress market. The choice is yours to select the plugins as per your website's need.
WordPress.org: Here you can find free WordPress themes and plugins
CodeCanyon: If you have to look for the best premium WordPress plugins, then this is the place
Third-party WordPress Plugins developers – Simply search in Google to find their websites
Things you need to consider while selecting the WordPress Plugins
There are hundreds of free and premium WordPress plugins. To pick one of them is really confusing and hectic job. More than you need to consider some important things while selecting the WordPress Plugins. Let's give them a look.
Free or Premium WordPress plugins
Based on your website's requirements, you can analyze whether you need free or premium WordPress plugins for your online presence. But more than that, you need to look after the plugin's performance, features and functionalities. Some of the free plugins are doing excellently well than the premium WordPress plugins. So, all you need to carry out little research before installing plugins on your WordPress website.
Features
Another thing to look for is the features of plugins. Features are the one that adds functions in your website. So, make a list of all the needed features before selecting the plugins. Likewise, try to compare plugins to seek out the features, functionalities and performance. Or else, both of your time and money will be wasted.
Compatibility and Support
Prior to installing plugins in your WordPress website, make sure it is compatible with your theme or website. If you install an incompatible plugin, then your website will face unnecessary problems and glitches. To prevent this, either ask the WordPress plugin developer or read the detailed information before installation.
Speed
Make sure your plugin does not take more space and slows down your website. A slow-loading website affects the user experience and SEO of the website. It leads to loss of traffics in the Google SERP. Always select the WordPress plugins that boost the speed and SEO of the websites.
Security
Security is probably the most important thing to watch out for while installing WordPress plugins. In many cases, plugins are also seen to be the reasons for the security weaknesss of a WordPress website. We have heard many websites are been hacked or data exposure. To save it, deeply review all the features and detailed information about the particular plugin. Or, you can take help from WordPress developers. Check whether the plugins are regularly updated or not. It boosts security and also improves features and attributes.
Review and Ratings
Better to look at both user reviews, responses and ratings to compare and analyze the information about the WordPress plugins.
Must-have WordPress Plugins for WordPress website
Below is the list of the must-have WordPress plugins that you should install while creating WordPress website.
WP Custom Social Sharing
WP Custom Social Sharing is free WordPress plugin for social sharing that allows you to share your website contents in social media channel. Be it Facebook, Twitter, Pinterest, LinkedIn and Whatsapp, you can smoothly share contents like page, posts, custom post types, and media. It is 100% responsive and compatible with all WordPress themes and browsers. You can either enable/disable the social media profiles you want to activate and select the color for each individual icons.
WooCommerce
WooCommerce is one of the most popular WordPress plugins for eCommerce stores. It helps to add all the eCommerce functionality needed for an e-store/online business website. With this WP plugin, you can easily sell any products and services right through your website. WooCommerce also has various extensions to provide every needful feature on the website, Such as payment gateways like PayPal, MasterCard, Stipes, Authorize.net, and so on. Now, it has its own WooCommerce hosting, WooCommerce themes, and WooCommerce extensions.
Yoast SEO
If you want to boost the SEO of your website, then you should install Yoast SEO plugin. It is perfect for SEO optimization. It gives all the functionality that helps to integrate all the on-page SEO and get your website rank in the Google Search Engine. It has simply provided all the instructions to add necessary measures to make your content more SEO optimized. It is a freemium WordPress Plugin, but its free version can do a lot.
WP Rocket
WP Rocket is the best caching plugin. It boost your site's speed and performance. It automatically crawls and creates a website cache to enhance the performance and speed. You do not need to be tech guru to use this plugin. Anyone with the basic knowledge of the internet and computer can easily set it up. WP Rockets robust features also helps to improve SEO rankings and increase conversions. WP Rocket features lazy loading for your images, XML sitemaps preloading, Google Fonts optimization, CSS and JS minification, deferred loading of JS files, database optimization, and many more.
WPML
WPML is the best WordPress plugin for multilingual to create a multilingual website. Your visitors can easily translate your website into their native language. One of the best parts, WPML is SEO-friendly. Remember that, you should install WPML because by default WordPress does not provide multilingual feature.
Elementor Page Builder WordPress Plugin
Elementor page builder WordPress plugin lets the users to create a website with its drag and drop builder. No need to write a single line of coding. It has tons of elements ready to be used to create a website, and pages. All you need is to drag and drop the given elements.
WP Forms
WPForms is one of the most popular contact form WordPress plugins. It add smooth and user-friednly contact forms where your visitors can easily contact you. With it you can also create forms like contact forms, email subscription forms, online order forms, payment forms, surveys, polls, and so on. You do not need to be write code. All you have to do is use its drag and drop builder feature. WPForms also offers conversational forms, form landing pages, user journey tracking, form abandonment, geolocation tracking, GDPR friendly, custom WordPress user registration and login forms, etc.
Akismet- Antispam
Akismet- Antispam prevents your website from spam comments. It is hard to get rid of spam comments when a website is live on the internet. Such comments are one of the reasons for losing users, audiences and damaging your brand's image. Developed by WordPress parent company, Automattic, it takes care of your website and prevents all spam comments.
MonsterInsights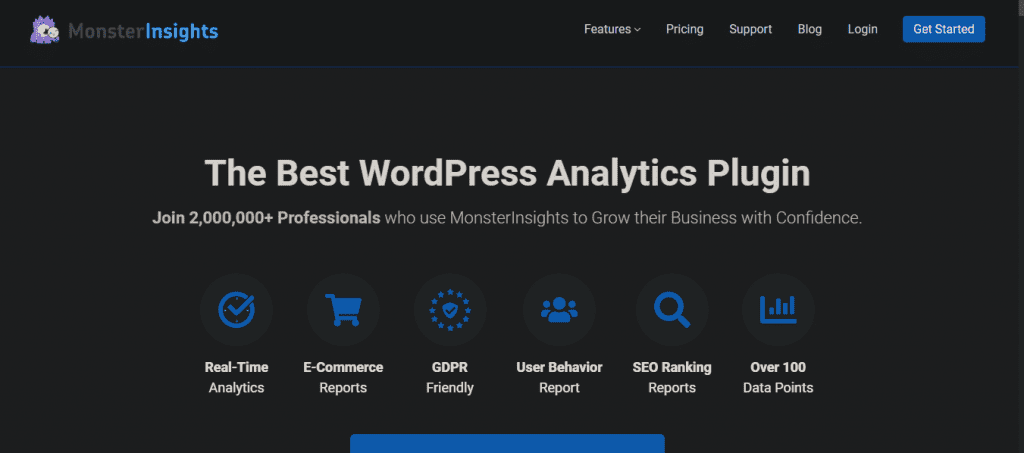 MosnterInsights helps to track the performance and data of WordPress websites. More the better flexibility, you can connect the Google Analytics right in the WordPress Dashboard and check all the SEO performance, online campaigns, traffics, conversions, and so on all from your WP dashboard. The process is simple, all you have to do is link the Google account to use this feature.
Some of the articles you may also like